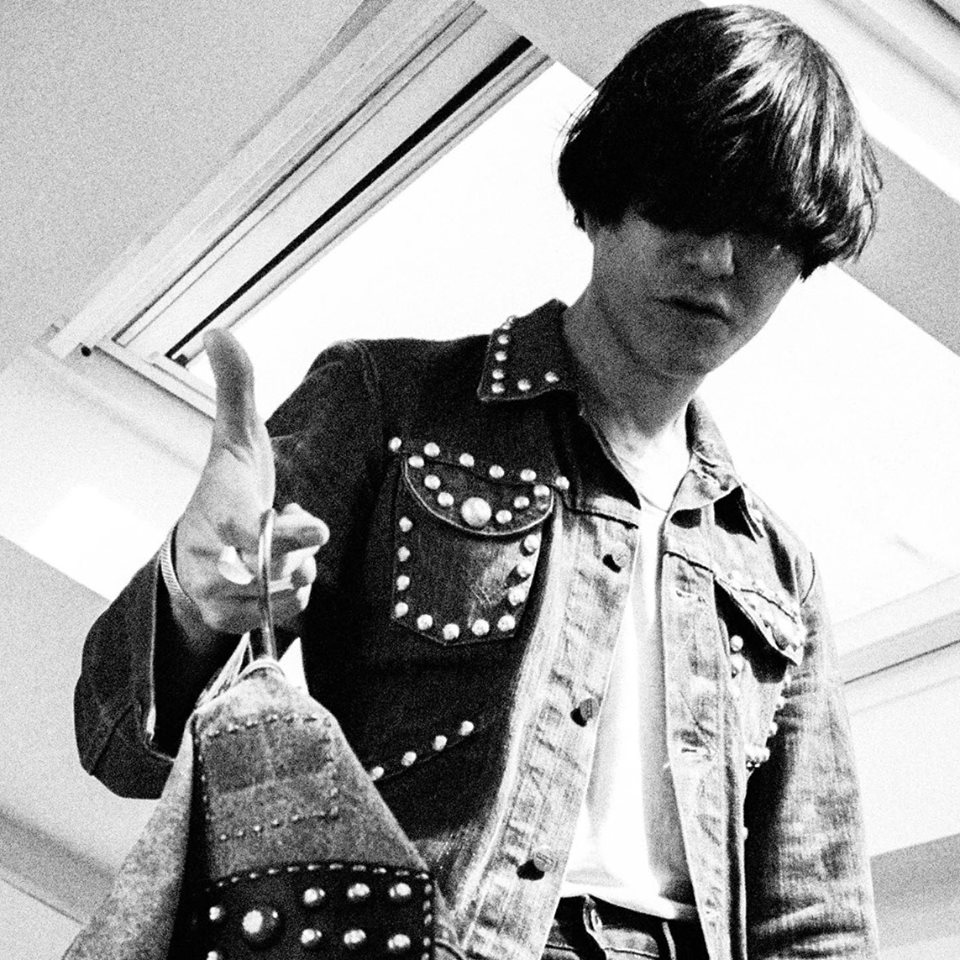 English text below
RONALD PINEAU PARTAGE SA VIE ENTRE PARIS ET BERLIN ET SE NOURRIT DE CULTURES URBAINES, MUSIQUE, ARCHITECTURE….
L'UNIVERS QUI SE DÉGAGE DE SON TRAVAIL RÉVÈLE SA PASSION POUR LA MUSIQUE ET LA SCÈNE ROCK ALTERNATIVE. IL PARLE DU LIEN ÉTROIT ENTRE LES COURANTS DE MUSIQUE ET LES CODES VESTIMENTAIRES UTILISÉS COMME SIGNES D'APPARTENANCE ET D'IDENTIFICATION A UN MOUVEMENT. LA MODE COMME UN LANGAGE POUR EXPRIMER SA CULTURE MUSICALE….
LA COLLECTION D'ACCESSOIRES EN CUIR EST ENTIÈREMENT FABRIQUÉE EN FRANCE ET COMPOSÉE DE CEINTURES, BRACELETS, BRETELLES ET D'UN SAC À DOS.
IL UTILISE DES CUIRS NATURELS, PLEINE FLEUR ET TANNÉS VÉGÉTAL. ISSUES D'UN SAVOIR FAIRE TRADITIONNEL, LES PIÈCES SONT DOUBLÉES AVEC LA MÊME QUALITÉ DE CUIR AFIN DE LEUR CONFÉRER ROBUSTESSE ET LONGÉVITÉ .
IL DÉVELOPPE CHAQUE SAISON DES TECHNIQUES D'EMBELLISSEMENT ET DE CLOUTAGE QUI RECOUVRENT SES PIÈCES ET FONT DE SA COLLECTION UN CROISEMENT ENTRE UNE LIGNE D'ACCESSOIRES EN CUIR ET UN TRAVAIL D'ORNEMENTATION, CLOUS GRAVÉS D'UN MOTIF DIAMANT CREUSÉ DANS L'ACIER TELLES LES INITIALES D'UNE CHEVALIÈRE, CLOUS MEULÉS ET PONCÉS, VERITABLE CRISTAL DE VERRE, FRANGES ET TRESSAGE DE CUIR…
DU FAIT DU CARACTERE ARTISANAL DE LA  PRODUCTION, LA COLLECTION EST DISTRIBUÉES DANS UNE CINQUANTAINE DE POINTS DE VENTE SELECTIONNÈS A TRAVERS LE MONDE.
LA COLLECTION « CUSTOMIZED DENIM » EST RÉALISÉE À PARTIR DE BLOUSONS LEVIS ET WRANGLER VINTAGE DES ANNÉES 70 À 90 SOIGNEUSEMENT SELECTIONNÉS. CES PIECES SONT CUSTOMISÉES AVEC DU CLOUTAGE ET RIVETAGE, LACAGE ET TRESSAGE CUIR, BLASONS EN CUIR A COUTURES MÉTALLIQUES…
CE PROCÉDÉ PERMET DE REDONNER UNE NOUVELLE VIE À DES VÊTEMENTS ANCIENS SOUS LA FORME DE PIÈCES IDENTITAIRES FAITES EN SÉRIES LIMITÉS. ELLES SONT VENDUES EN PIECES UNIQUES SUR RENDEZ-VOUS DANS SON SHOWROOM À PARIS.
English text
RONALD PINEAU SHARES HIS LIFE BETWEEN PARIS AND BERLIN, FEEDING HIMSELF WITH URBAN CULTURES, MUSIC, ARCHITECTURE…
THE SPIRIT OF HIS WORK REVEALS HIS PASSION FOR MUSIC AND THE ALTERNATIVE ROCK SCENE. HE SPEAKS ABOUT THE CLOSE RELATIONSHIP BETWEEN THE MUSIC TRENDS AND DRESS CODES USED AS A SIGN OF BELONGING TO AND IDENTIFICATION WITH A MOVEMENT. FASHION AS A LAGUAGE TO EXPRESS MUSIC CULTURE…
THE LEATHER ACCESSORY COLLECTION IS EXCLUSIVELY MADE IN FRANCE AND INCLUDES BELTS, BRACELETS, SUSPENDERS, AND A BACK-PACK.
HE IS USING NATURAL,  FULL-GRAIN AND VEGETAL TANNED LEATHER. INSPIRED BY TRADITIONAL METHODS AND KNOW-HOW,  ALL PIECES ARE FULLY LINED WITH THE SAME QUALITY OF LEATHER IN ORDER TO  GIVE THEM STURDINESS AND LONGEVITY.
HE DEVELOPS EACH SEASON EMBELLISHEMENT AND STUDDING TECHNIQUES THAT ARE COVERING HIS PIECES, MAKING HIS COLLECTION A CROSS BETWEEN A LINE OF LEATHER ACCESSORIES  AND A WORK OF ORNAMENTATION, STUDS ENGRAVED WITH A DIAMOND MOTIF DEEP SET INTO THE METAL LIKE INITIALS ON MAN'S SIGNET RING, GRINDED AND SANDED STUDS, REAL GLASS CRYSTAL, LEATHER FRINGES AND BRAIDING…
DUE TO THE ARTISANAL METHOD OF MANUFACTURING, THE COLLECTION  IS DISTRIBUTED IN A SELLECTION OF FIFTY STORES AROUND THE WORLD.
THE « CUSTOMIZED DENIM » COLLECTION IS MADE ON VINTAGE WRANGLER AND LEVIS JACKETS FROM THE 70's TO THE 90's CAREFULLY SELECTED. THESE PIECES ARE CUSTOMOZED WITH STUDDING AND RIVETING, LEATHER LACING AND BRAIDING, LEATHER BLAZONS WITH METALLIC STITCHING…
THIS PROCESS ALLOWS TO GIVE A NEW LIFE TO OLDER CLOTHES TROUGH STRONG IDENTITY PIECES IN LIMITED SERIES. THEY ARE SOLD AS UNIQUE PIECES BY APPOINTMENT IN HIS PARIS SHOWROOM.